Toniq integrates with Clanwilliam Health's Secure Script messaging service to deliver prescriptions directly into Toniq Dispensary
Toniq have developed a fully integrated pharmacy inbox to receive Secure Script messages from GPs, hospital prescribers, and more. Secure Script will help healthcare providers deliver safe, effective care during the COVID-19 pandemic and beyond.
Secure Script
Secure Script builds on Clanwilliam Health's HealthLink Messaging System (HMS) through collaboration with both GP and Pharmacy software vendors to enable a fully integrated, secure, and seamless transfer of electronic prescriptions.
Launched this week, Secure Script is already up and running on My Practice and Indici and currently being rolled out nationwide. Medtech integration will be available in the coming weeks.
And it is not just GPs jumping on board. Waitemata, Auckland, and Counties Manukau DHBs will start using Secure Script soon – the first time they have ever used an e-prescription service to communicate with community pharmacies.
Click here for the full press release
Toniq Integration
Integrating Toniq Dispensary into Clanwilliam Health's Secure Script messaging system will allow pharmacies to connect with other healthcare professionals faster and easier than ever before.
Electronic prescriptions will be delivered directly into the new Toniq Dispensary inbox.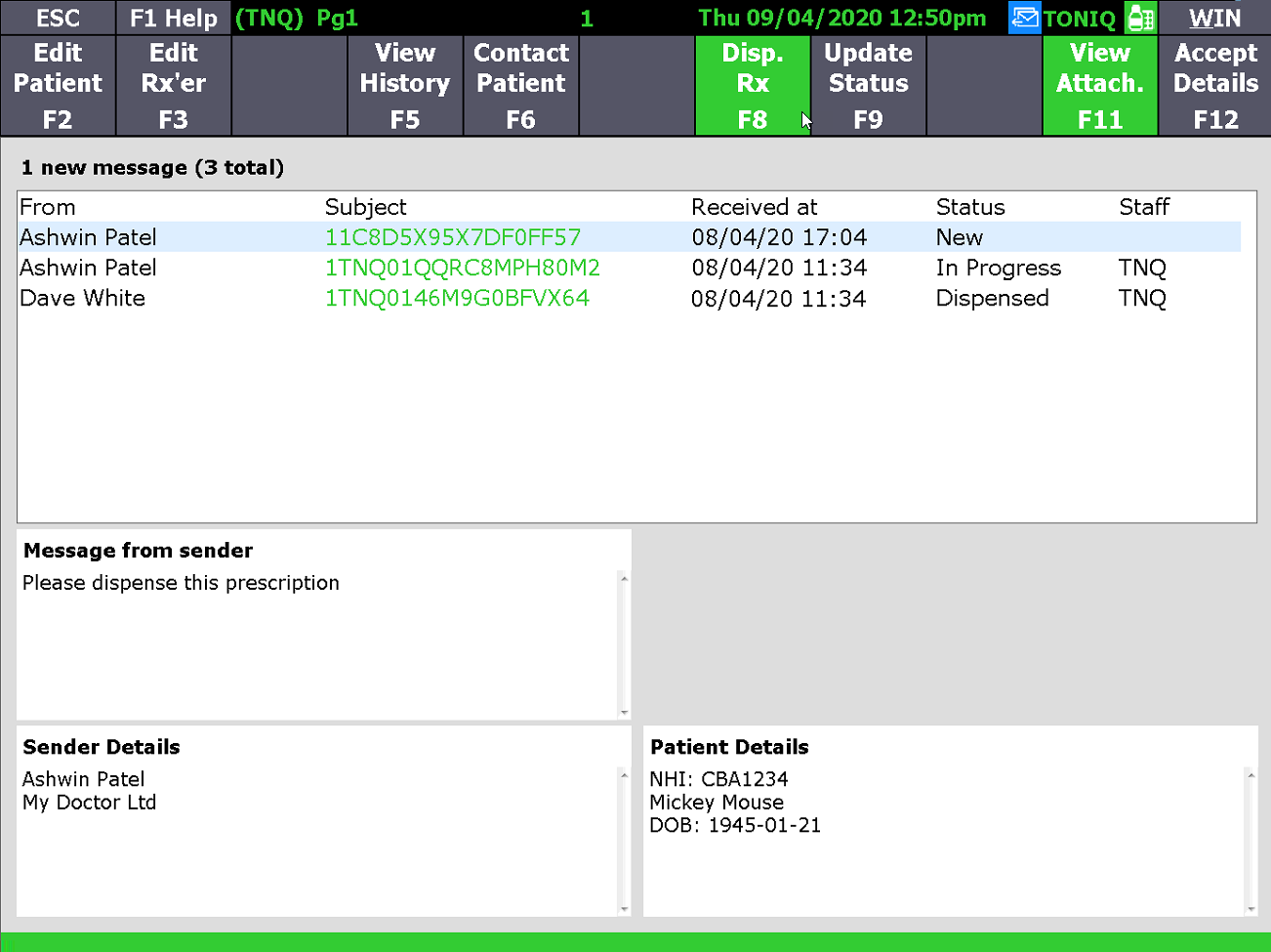 The Inbox is available from the Prescriptions screen to allow pharmacies to quickly receive and dispense electronic prescriptions.
The following features provide a seamless and efficient pharmacy workflow:
Notifications
Blue email notification icon showing when new prescription messages have arrived in the prescription inbox
Prescription Inbox
The inbox allows users to view and manage prescription messages
Dispense ePrescriptions
Dispense NZePS prescriptions directly from the inbox without the need to scan the barcode
View and print attached prescription
View the PDF copy of the prescription and print to send through with your script batch
Contact the Patient
Text or email the patient from the inbox, ideal for letting them know when prescriptions are ready for collection
Statuses
Track the status of each message, status automatically updates as inbox items are dispensed
Watch the Toniq Inbox Demo
Sign up now
Already installed at pilot sites and generally available from today, pharmacies will need to register online to get a connection to Clanwilliam Health's secure messaging system.
Click here to register now
Once registered, a friendly Toniq staff member will contact you to install and configure the Toniq inbox.
A special pharmacy rate of $49.00 + GST per month applies for the HealthLink secure messaging software, which will be invoiced monthly by Clanwilliam Health. However, this fee completely waived until 30th November 2020 to assist pharmacies with their COVID-19 response. No minimum contract term.
There are no charges from Toniq for receiving secure messages to the inbox.
Frequently asked questions
Do I have to change to a Healthlink Secure IT connection?
There is no requirement to change your physical firewall hardware for the secure messaging software to work.
How do I know what my HealthLink EDI address is?
You create this when signing up, this is your pharmacy mailbox identity (or inbox address).
I have registered with Clanwilliam Health, now what?
You will receive a call from one of the friendly staff at Toniq to get your pharmacy set up.
Due to high demand, this may take 1-2 business days.